Susan Denney of Panhandle-Plains Historical Museum



Susan is the Assistant Curator of History and Curator of Textiles for the Panhandle-Plains Historical Museum located in Canyon, Texas, and the museum boasts to be "Texas' Largest History Museum."

Just south of Amarillo, the museum has a fairly extensive clothing and textile collection. Their site says they have..."..more than 500 million years of history that spans the 26,000 square mile expanse and brings to life the vibrant spirit and history of the Panhandle Plains region."
They are located at 2503 4th Avenue - Canyon, Texas 79015, 806-651-2244 and their summer hours are June - August, 9am - 6pm, Mon - Sat; 1pm - 6pm, Sun.
Susan invites anyone interested in visiting to contact her at sdenney@pphm.wtamu.edu.
_______________
Next is Sydney from Sydneys Vintage Clothing.



Sydney is an Alabama VFG member. She tells us that she has been selling vintage clothing online for about 6 years under her Ebay ID, SydneysVintageClothing, and on her own website, sydneysvintageclothing.com. She also says..."...I have appx. 5000 pieces of vintage clothing and accessories. I have anything from Civil War era, to the swinging 40's 50's, mod 60's, disco 70's and pink 80's. I have modern day designer labels. And of course let's not forget the accessories to go along with the clothing!"
Look at this yummy Vintage 30s Blue Velvet Dress which is a new arrival on her site ...(click to view)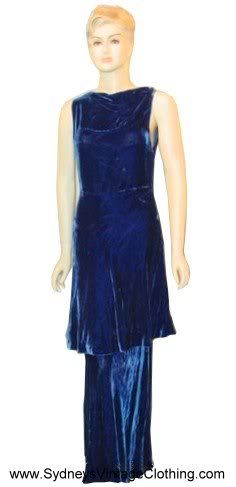 Sydney has also mentioned that she may be opening a brick and mortar vintage clothing store soon so stay tuned...
_____________
Our last Featured Member for this week is...
Harriet of Tasty Vintage



Harriet hails from the UK and is a long-time member of the VFG having served as Public Board Chairman, Board Member and now serving on the Board as Treasurer for the VFG.
Harriet says..."...I've been wearing vintage clothing for as long as I can remember, occasionally selling at festivals and to friends in my teens - but mainly buying (and buying, and buying…). I have a fairly large collection of vintage clothing which I began to try and condense a little by selling at online auction (hattysattic)..."
In the past several years she has opened her online store, tastyvintage.com and just last year opened her very own brick and mortar vintage clothing shop at 18-20 Rasen Lane in Lincoln.
This girl loves vintage, especially novelty prints, and says she cannot pin herself down to just one era because she loves it all!
Check out this Emerald Green Chiffon 60s Dress coming soon to tastyvintage.com....(Click to View)




________________
**These VFG Featured Members are being posted on my blog as a member of the Vintage Fashion Guild.