Heaven to Betsy...look what we found now!
It started last Saturday morning.  The weather was sunny and was one of the first nice days for garage sales.  The newspaper had rows and rows of sales listed but one ad seemed to draw my eye...lots of vintage magazines and paper memorabilia.
Well, I didn't arrive early but there was still plenty to pick from.  Boxes and boxes of old magazines from the 40s and 50s and lots of odds and ends.  Looking through an old box of hair nets and stationery, I came upon this old photograph of Deana Durbin.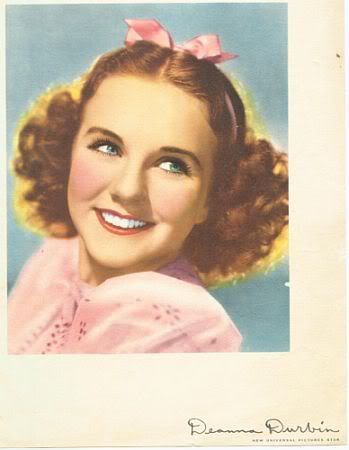 Not printed on a thin magazine quality paper, this photo was on a heavy studio type paper with colors still vibrant.  Down in the lower right hand corner, it says.."New Universal Pictures Star."  A signature at the bottom says Deanna Durbin.  Not just a printed one either but whether this signature is truly Durbins's or not, remains to be seen.  I could certainly envision a young teenager in the 30s waiting patiently outside Universal Studios for an autograph of this young and coming star.
Born in 1921 in Canada, Deanna Durbin began her career at a young age and appeared in many films of the 1930s and 1940s, first appearing with Judy Garland in a short film "Every Sunday."  She was soon signed with Universal Films with her first picture there was "Three Smart Girls" in 1936.  Judging by the photo above and the subtitle, this picture would probably be from that film. 
Here are two You Tube videos of Durbin, the first from "Three Smart Girls" and the second one from "Every Sunday."  Turn your sound on to enjoy!